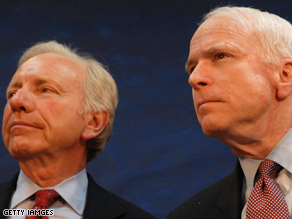 DOH! DEMOS STILL NEED HIM FOR FILIBUSTER-PROOF SENATE
election'08: the race to clean the place
With majority rule in Washington are very real possibility, the LFR has run numerous postings calling on Democrats to temper their pent up anger over the past eight years to allow for the country to heal the divisions wrought by President Bush.
This has meant reaching out to poor white conservative voters, halting ridicule for voters who espouse to the religious right and, for Christ's sake, lay off Sarah Palin.
As far as taking the high road goes, there is an exit for Democrats to disembark when it comes to Sen. Joe Lieberman, the man more synonymous today with the word "apostate" than
Judas
.
The Hill
reports today sources in the Democratic caucus are discussing removing Lieberman from his leadership position on the Homeland Security Committee. Sources say
Sen. Daniel Akaka
of Hawaii would assume the gavel. Naming Akaka to the post would seem apropos since his surname may be what childish Democrats privately call Lieberman.
Yet, the Connecticut fence-sitter again has the party by the political juevos, so to speak. The Hill report seems questionable at a time when Democrats are scratching for a possibly unattainable filibuster-proof 60 votes in the Senate.
The Democratic caucus can flay Lieberman to a certain point, but they will still need his consistent vote despite his independent status. Further complicating matters, is the likely move of Sen. Joe Biden to the vice president's quarters.
Unfortunately, Lieberman has again foiled Democrats plans to stick it to him. Where have you gone, Joe Lieberman?
And that's two conclusions in row featuring 30 years references to famous music lyrics. Sorry.